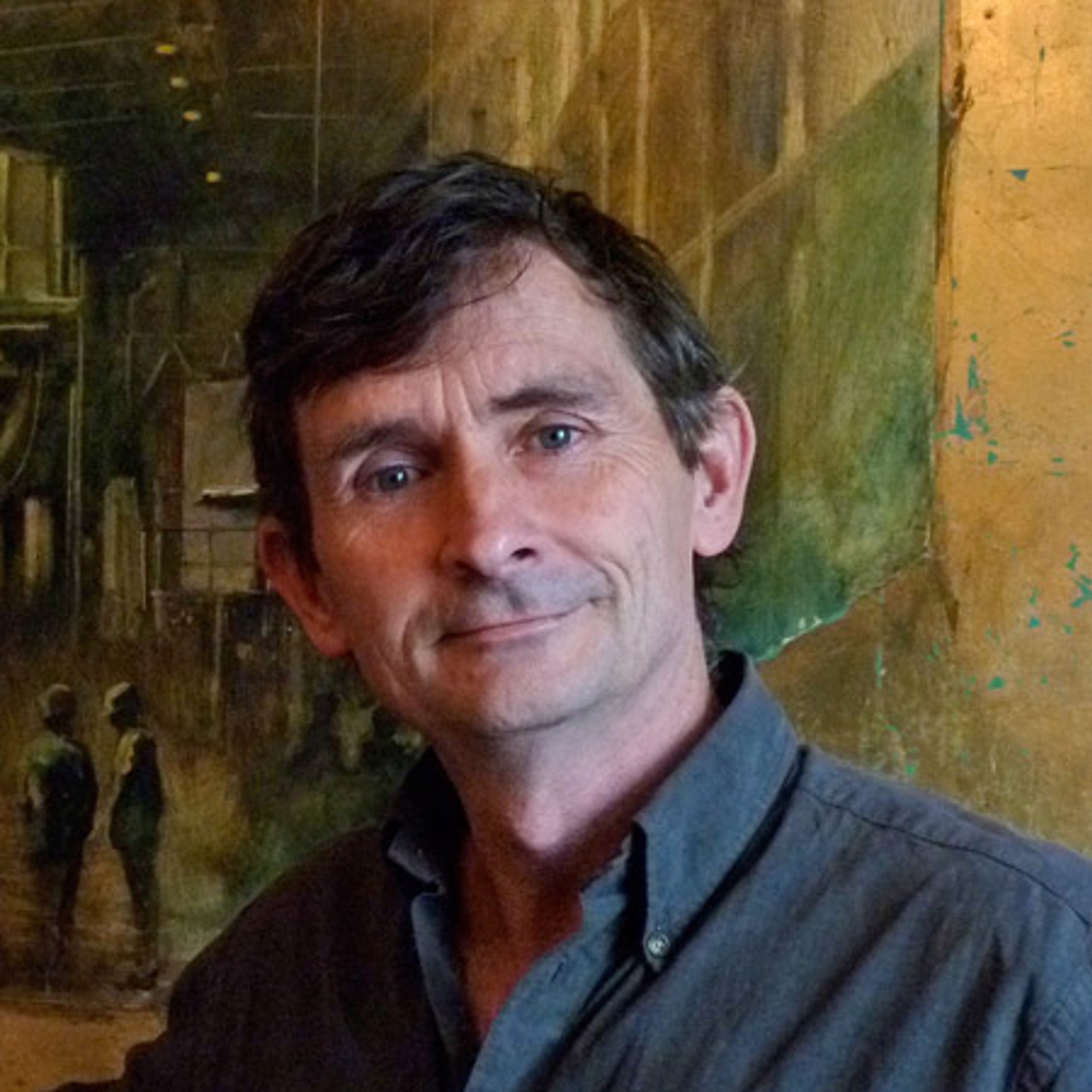 MICHAEL ALFORD (b. 1958, British)
Michael Alford is a diversified painter, whose work combines expressionist technique and Romanticism/Classicism with Impressionist and post-Impressionist leanings. He was born in Cookham, England, grew up in Germany, and attended rugby school! His earliest art training came from his father, a colonel in the Royal Engineers, who taught him to draw in perspective from a young age. After a stint in the Royal Marines, Michael went on to Durham University where he studied Spanish and Arabic. He used his language skills to travel extensively in South America and the Middle East, keeping detailed sketchbooks to record his experiences. A series of early drawings reveals a talent for the representational depiction of cities, human figures, and natural scenes – subjects that form the core of his work to this day.
Returning to the United Kingdom, Michael pursued studies at the prestigious Slade School and the Chelsea School of Art before launching a successful painting career. Well known for his ability to blend classical technique with Romantic, expressionistic, and impressionistic sensibilities, his work can be found in public and private collections around the world. He exhibits regularly in the United Kingdom, as well as in the United States and continental Europe.
Michael's body of work is varied, reflecting his interests in many aspects of life, as well as his skill in a variety of media. He is best known for masterful cityscapes of urban centers such as London, New York, and Barcelona. His paintings and drawings of figures, clothed and nude – are highly sought after for their combination of fine draughtsmanship, acute observation, and sense of painterly drama. He is frequently commissioned as a portraitist of both individuals and groups. Continuing his practice of painting while travelling, Michael regularly produces plein air paintings, and watercolor and oil sketches of landscapes from Dorset to Oman.
In 2011 Michael served as "Official War Artist" to the 1st Battalion Grenadier Guards, accompanying them on their tour of Afghanistan. While there, he completed Afghan Sketches, a series of 24 watercolors that record his experience of living alongside the soldiers on remote patrol bases on the edge of ISAF-controlled territory. He exhibited these and other Afghan paintings at a special exhibition held at the Royal Geographical Society, later donating his sketchbook to "The Colonel's Fund," the Guard's charitable body. Michael was subsequently commissioned by the Guards to paint two large ceremonial works, "Blue 9" and "Presentation of the Colors."
EDUCATION
Slade School of Fine Art, London, England
Chelsea School of Art, London
MUSEUM & JURIED EXHIBITIONS
2010 Annual Exhibition, Royal Institute of Oil Painters, London Londor Art Fair, Panter & Hall, London
2009 Annual Exhibition, Royal Institure of Oil Painters, London London Art Fair, Panter & Hall, London
2007-8 Chelsea Art Society Summer Exhibition, London
2005-6 Annual Exhibition, Royal Institute of Oil Painters, London
2005 Chelsea Art Society Summer Exhibition, London
PRIZES, HONORS, & AWARDS
"Green and Stone" Oil Painting Prize "Agnes Reeve Memorial Prize," best painting of London Prima Luce mural prize Grenadier Guards, commission, "Blue 9," "Presentation of the Colors"
SOLO EXHIBITIONS
2010 Highgate Contemporary Art, London Duncan Campbell Gallery, London Helmand Paintings, Royal Geographical Society, London
2006-'09 Duncan Campbell Gallery, London
GROUP EXHIBITIONS
Various Royal Society of Oil Painters, London Royal Geographical Society, London
2013 Chloe Gallery, San Francisco CA
2012 "Christmas & New Year Show," Lime Tree Gallery, Bristol, England New Year Show, Medici Gallery, London
2011 "Summer Show," Blackheath Gallery, London "Summer Show," Medici Gallery, London
2009 Group show, Bucranio Arte, Italy
2008/'07 Highgate Fine Art, London Bucranio Arte, Italy
2005-'06 Neville Gallery, Canterbury, England Blackheath Gallery, London Highgate Contemporary Art, London Collins & Hastie, London
2005 Chatto Gallery, London King's Road Gallery, London
MEDIA & REVIEWS
2011 Cover, The Strand Magazine 2010 Afghan Sketches, Grenadier Guards' Publication
2008 Cover, The Strand Magazine, June-September
2007 Cover, International Artist Magazine, "The Age of Reason II," April/May
2006 Cover, Artists and Illustrators Magazine, December
2006 Article, Michael Alford, Artists and Illustrators Magazine, December
CAREER
Council Member, Chelsea Arts Society "Official War Artist," 1st Battalion Grenadier Guards Enlisted, Royal Marines
Read More