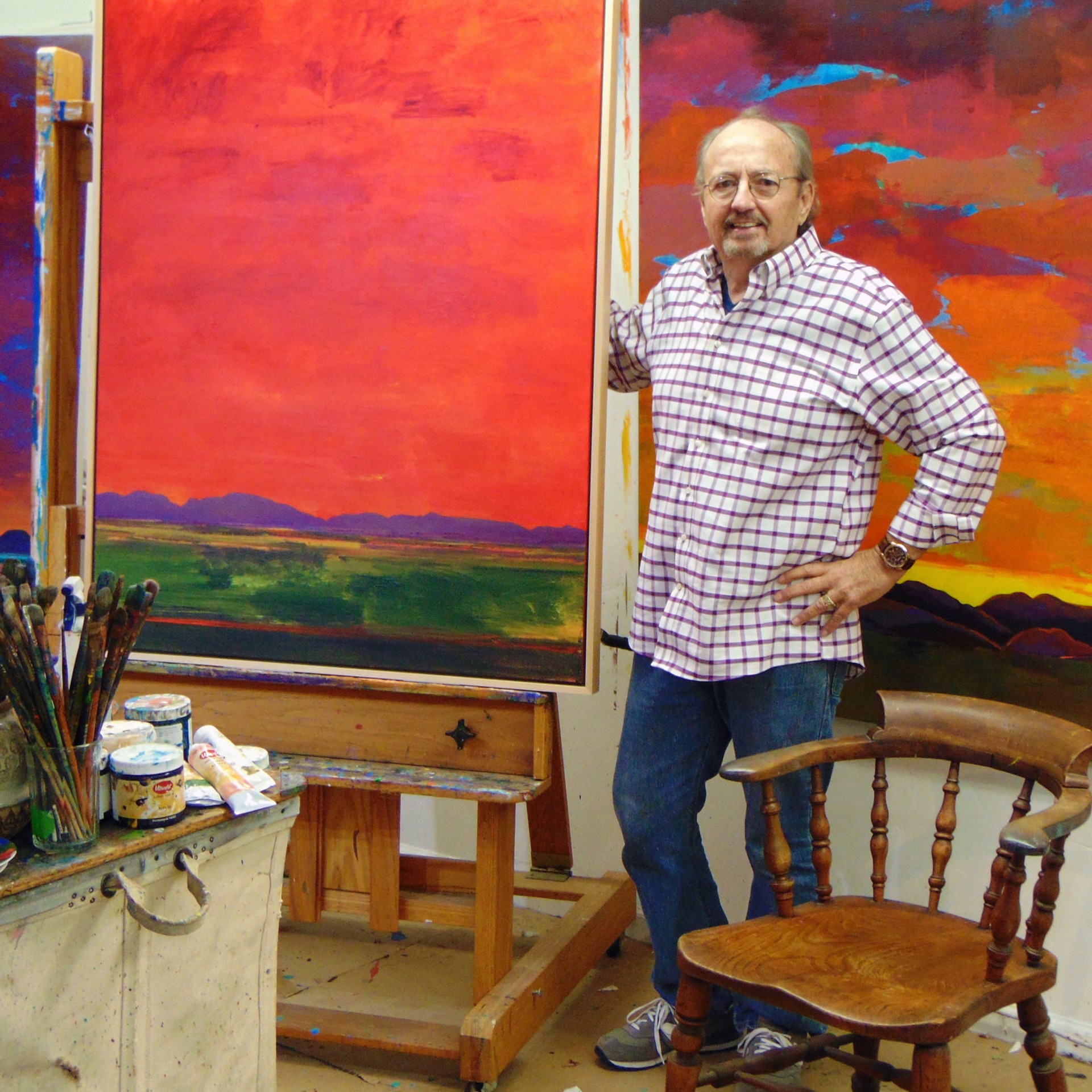 Mark Bowles (American)
Contemporary Landscape Artist Mark Bowles was born and raised in the San Francisco Bay Area of Northern California. Mark's passion for interpreting what he saw brought him to his studies at the College of Arts and Crafts located in Oakland California. There he completed his studies with honors with a limited stay at Institudio Allende in San Miguel de Allende, Mexico. It is this dedication and passion for his art that has allowed his work to grow and move forward and stay fresh.
While Mark has remained dedicated in his professional career for 40 years, whether he is working with a still life, the human figure, or landscape, he is always fascinated by texture, form and color. He does not limit himself in what he paints or how he might interpret what he sees. This freedom allows his work to move from representational to minimalist to abstraction.
He paints with an intent to address the canvas directly, honestly and boldly. As his heart is always pushing his work to find new language in expressing what he sees and how he feels about it, the result is not just an intellectual exercise but is being involved in the "Now" – always open for change and challenge – and always evolving.
By exploring color, composition, the quality and attitude of a line, Mark's goal is to draw his viewer into his space and let them become involved in their own personal journey and discovery of his work.
Among the many solo gallery and museum exhibitions, Mark's works are represented in galleries in Houston, Chicago, Palm Desert, San Francisco, Tucson, Park City and Santa Fe.
His work is included in many private corporate and public collections and has also been acquired for the permanent collections of many museums including the Crocker Museum in Sacramento, Phoenix Art Museum, Booth Western Art Museum in Cartersville, Georgia, Denver Art Museum, Tucson Museum of Art and The University of Arizona Museum of Art, Tucson.
Mark currently has homes and studios in Orangevale and La Quinta, California.
EDUCATION
1976 -1980 California College of Arts and Crafts, Oakland, CA
Graduate Program, Full Merit Scholarship
1974 Academy of Art, San Francisco, CA
1972 Institudio Allende, San Miguel De Allende, Mexico
1971 -1976 California College of Arts and Crafts, Oakland, CA
Bachelor of Fine Arts Degree with Honors in Painting
Undergraduate Merit Scholarships
SELECTED SHOWS
Altamira Fine Art, Scottsdale, AZ
Bill Lowe Gallery, Atlanta, GA
Boston Arts, Inc. Invitational Landscape Show, Boston, MA
Brazilian Court, Palm Beach, FL
California State Fair, Jurors Award-Golden Bear Award, Sacramento, CA
California State University, Sacramento, Group Exhibition DELTA
Canyon Road Contemporary Art Gallery, Santa Fe, NM
CODA Gallery, Palm Desert, CA
Crocker Art Museum's Kingsley Art Club Lecture Series: Painter Mark Bowles
Dean Day Gallery, Houston, TX
Medicine Man Gallery group exhibition "Along the Distant Mesa, an Homage to Maynard Dixon," Tucson, AZ
Morris Graves Museum of Art (solo show), Eureka, CA
Palm Springs Desert Museum, CA
SFMOMA Artist Gallery, San Francisco, CA
Temporary Contemporary Gallery, Sacramento, CA
Trove Gallery, Park City, UT
EMBASSIES
American Embassy, Katmandu, Nepal
American Embassy, Mexico City, Mexico
American Embassy, Port Louis, Mauritius
SELECTED PUBLICATIONS
Inside Santa Fe magazine (cover)
Along the Distant Mesa, an Homage to Maynard Dixon by Dr. Mark Sublette
American Art Collector, Collector's Focus, September
Santa Fean magazine
Art LTD magazine cover
"At this Point" poems by Warren Wolfson (cover)
Southwest Art magazine, editorial
Palm Springs Life magazine
RESIDENCES
Artist in Residence, Yosemite National Park, YNP, California
Artist in Residence, Maynard Dixon's home studio (Thunderbird), Mt. Carmel, Utah
MUSEUMS (PERMANENT COLLECTIONS)

Booth Western Art Museum, Cartersville, GA
Crocker Art Museum, Sacramento, CA
Denver Art Museum, Denver, CO
Phoenix Art Museum, Phoenix, AZ
Tucson Museum of Art, Tucson, AZ
University of Arizona, Tucson, AZ

Read More