By Amy Nelder, April 2016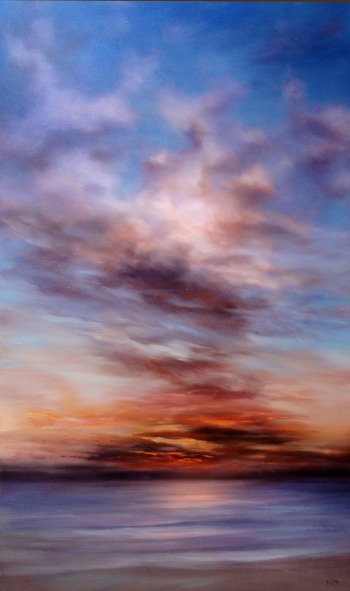 The Evening Begins
Cheryl Kline
oil on canvas
60" x 36"
So much of the human body is made up of water – the majority, in fact. Perhaps this is why we feel such calm when we are near the vastness of the ocean, when we see its colors and hear its waves, or why so often we feel relaxed just sitting on a deck chair poolside - even on a day when we are not getting into the water. Calming our hearts, feeding our souls, what we feel suggests an ancient synergy between our bodies and this massive liquid heart of Mother Nature.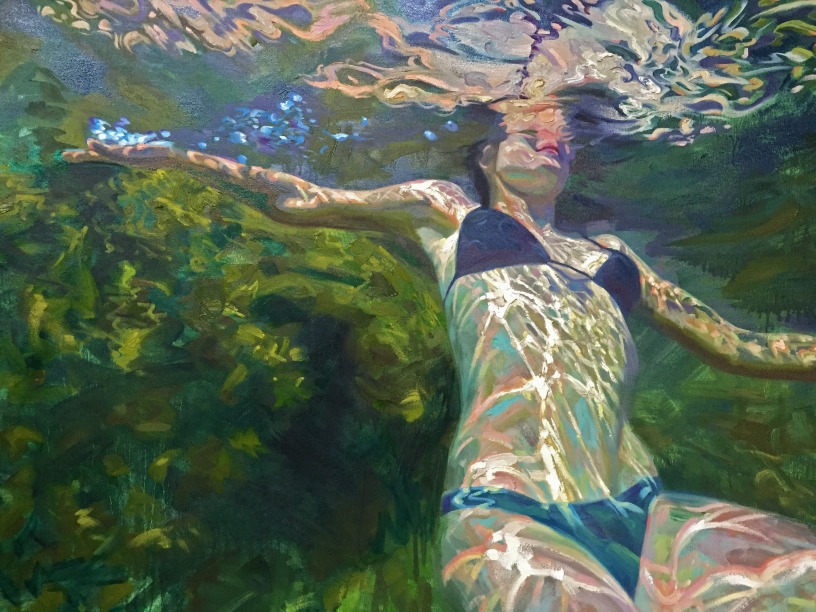 Under The Sea
Isabel Emrich
oil on canvas
30" x 40"
But one doesn't have to stand on the beach, our feet in the wet sand, smelling the salt air and hearing the waves, to enjoy the benefits of water – Those who love and collect art know that we feel the gestalt of the colors and textures in a painting we love deep into our emotional and sensory core.
When we see or hear the sounds of a river, swimming pool, or the ocean, it seems to take us into a sensory and psychological experience, even when we are not feeling the water in a literal way. The undeniable pull of the sea translates through many layers of experience, from the popularity of listening to recordings of the crashing of the waves to calm oneself through work or put oneself to sleep, to the fact that shades of blue are the world's most popular colors - and unsurprisingly associated with a calming effect.
The color blue is the most popular color in the world – crossing cultural and religious lines, crossing continents, crossing social mores even in Asian countries where red and yellow are considered to be lucky. The love of blue goes beyond social training, and it does not take a great leap to see why merely the sight of the ocean blue can draw us into a seascape, or an underwater scene, especially when executed by an artist who truly loves the ocean herself.
<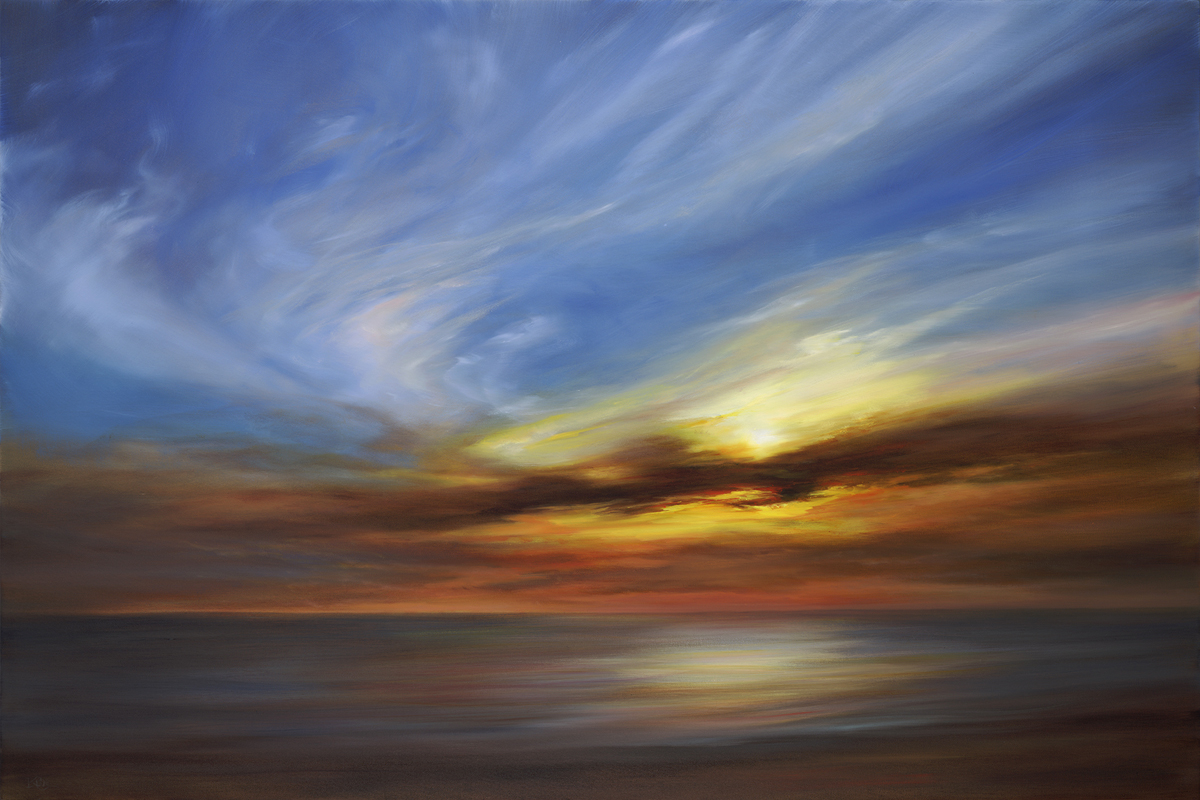 Let's Elope
Cheryl Kline
oil on canvas
40" x 60"
Cheryl Kline is an acclaimed Southern California artist who understands the unconditional love of water firsthand. Her big-sky-and-ocean landscapes are undeniably calming and sublime. It's hard to encounter a wall of these paintings and not stop and linger in front of them, feeling the serenity and awe the artist might have known while standing before them herself in person in the original moment, and then re-experiencing them herself through her own brushstrokes. It is easy to wonder if what we are feeling when we look at her work is a contagion of joy from her own experience painting the ocean.
"My love affair with nature began first with the sky in 1999 when one day I had nothing to paint," says the artist.
<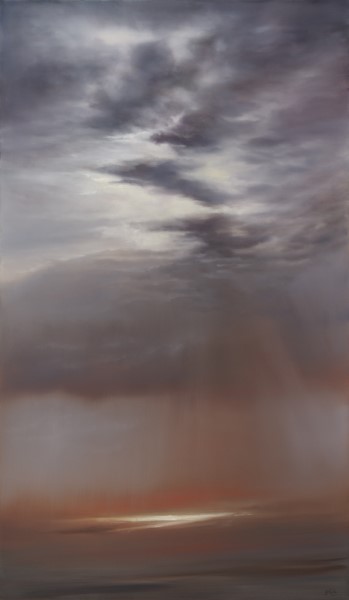 Whispering Heart
Cheryl Kline
oil on canvas
62" x 36"
"I live across the highway from the beach near Malibu and I noticed how calm the sea was that day and how the coves disappeared into the distant mist much like they do in Japanese paintings. It was beautiful. So I decided to paint the scene in front of me. I spent most of the day on this painting and by the afternoon. I was amazed at how peaceful I felt from the experience. It was then that I decided that to celebrate the millennium, I would paint the same scene every Monday for one year.
I was awestruck by how different the same scene appeared from week to week. What ever was happening in the sky, the water reflected. If the sky was dancing with big thunder clouds the ocean was dark and rough, a distant rain shower and maybe a ray of light on the horizon. I couldn't wait for Mondays to continue this addicting affair.
I have always loved the ocean and in fact most of my vacations are water based activities. I love to swim and snorkel in clear, clean warm water. Cozumel and Cancun are my favorites. The colors are unreal and underwater it is surreal. Time seems to slow way down when you are watching colorful fish and discovering corals and underwater nature. Living across from the pacific ocean is almost a tease. It is strong and ferocious, and cold. But I love it and I wrote a poem about it one day when I was trying to put into words what I was feeling:"
She was dressed in her periwinkle blue dress and a small seed pearl necklace.
Her mood was smooth, calm and aloof, a subtle beauty that was hard to take for granted.
Everyday she is different and yet there is a sameness that is comforting.
Whether it is knowing that when I awake, she will always be there
or the excitement of wondering how she will look today.
It may also be her omnipotent presence that continues to what seems to be eternity.
I admire and respect her strength.
And at times I have seen her ferocious nature.
I stay at a healthy distance but I never, ever tire of her undying beauty.
I am in love with the ocean.
CHERYL KLINE
"Sotheby's real estate agent Eric Johnson said he has long pondered why his wealthy clients are willing to pay up to 40 percent more for a high-rise unit in San Francisco facing the water rather than facing land." – (Santa Cruz Sentinal, 2011)
One possibility is that his higher sales for Bay water views is due to some instinctive inclination towards health and happiness, and one we know deep down that even just the sight of water may provide.
Scientists seem to be beginning to wonder the same thing. "'We are starting to do brain scans...in response to [people] looking at images of coastal environments...' says Dr. Mathew White, a University of Plymouth psychologist, in an interview with the BBC. 'In the lab we've shown people prefer aquatic and water scenes...people are drawn to the color blue.' In general, these studies in the U.K. demonstrate that both natural and built scenes containing water are associated with higher perceived restorativeness than those without water. Even when visitors to the seaside were found to arrive in a good mood, they leave the coast with significantly heightened positive mood." – (Wallace J. Nichols, 2013)
<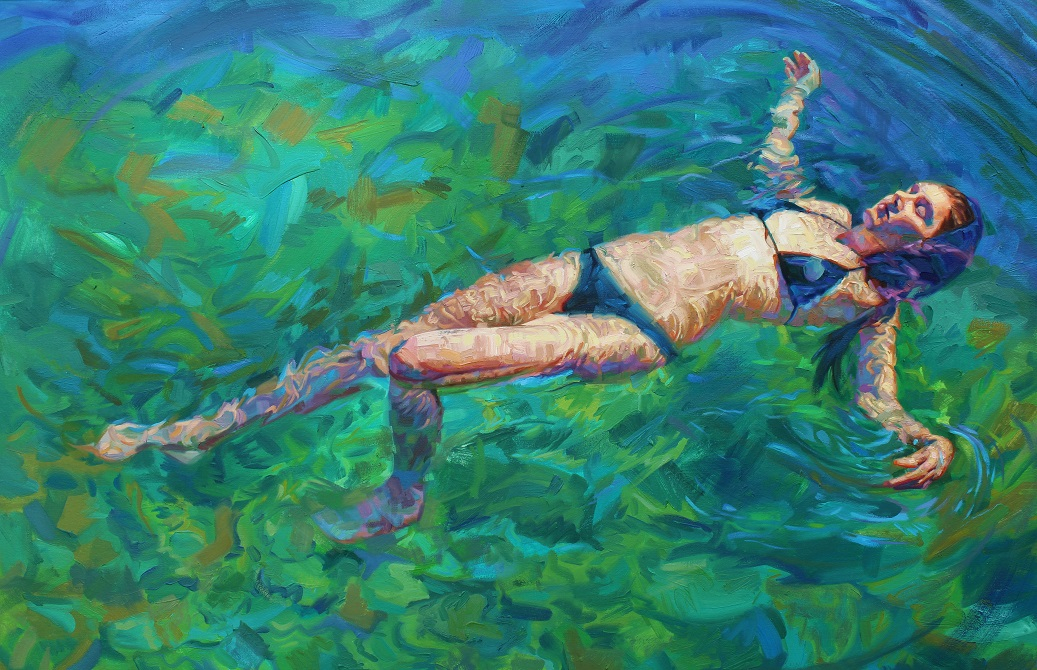 br>
Summer Sunshine
Isabel Emrich
oil on canvas
40" x 60"
Some might say it is the science of the human being's natural relationship to water. At Stanford University, a neuroscientist named Shelley Batts is an expert in the consequences of sound on the human brain. She asserts that even just the sound of waves rushing and receding brings us a peaceful state of mind.
'"The sound of the sea is one of the most evocative to people,", says Batts, "The "whoosh" sound at the ocean 'brings up feelings of relaxation and tranquility.'" – (Santa Cruz Sentinal , 2011)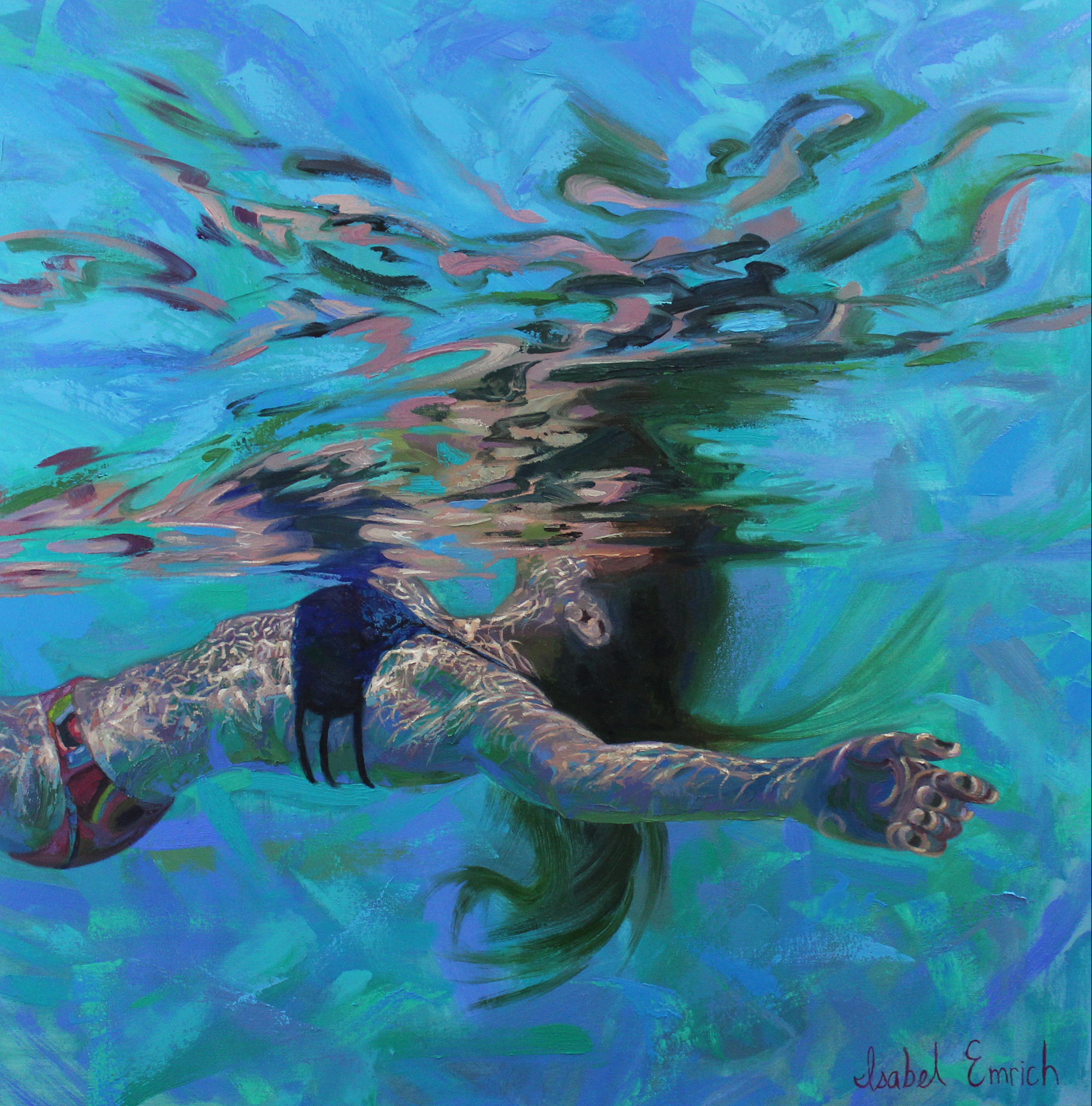 Riptide - Sold
Isabel Emrich
oil on canvas
36" x 36"
Isabel Emrich's stunning underwater paintings remind us of both the enveloping power and strength of water, as well as its serenity and life-affirming nature. She paints the body as nearly simultaneous with the water, while still keeping the figure's face revealed just enough to drink in the oxygen above while the body soaks in the comfort of the water below. Isabel clearly enjoys painting the human figure dappled with threads of light peeking through the water onto the subject's skin, but also loves the incessant motion of the abstract reflections of color beneath the water's surface.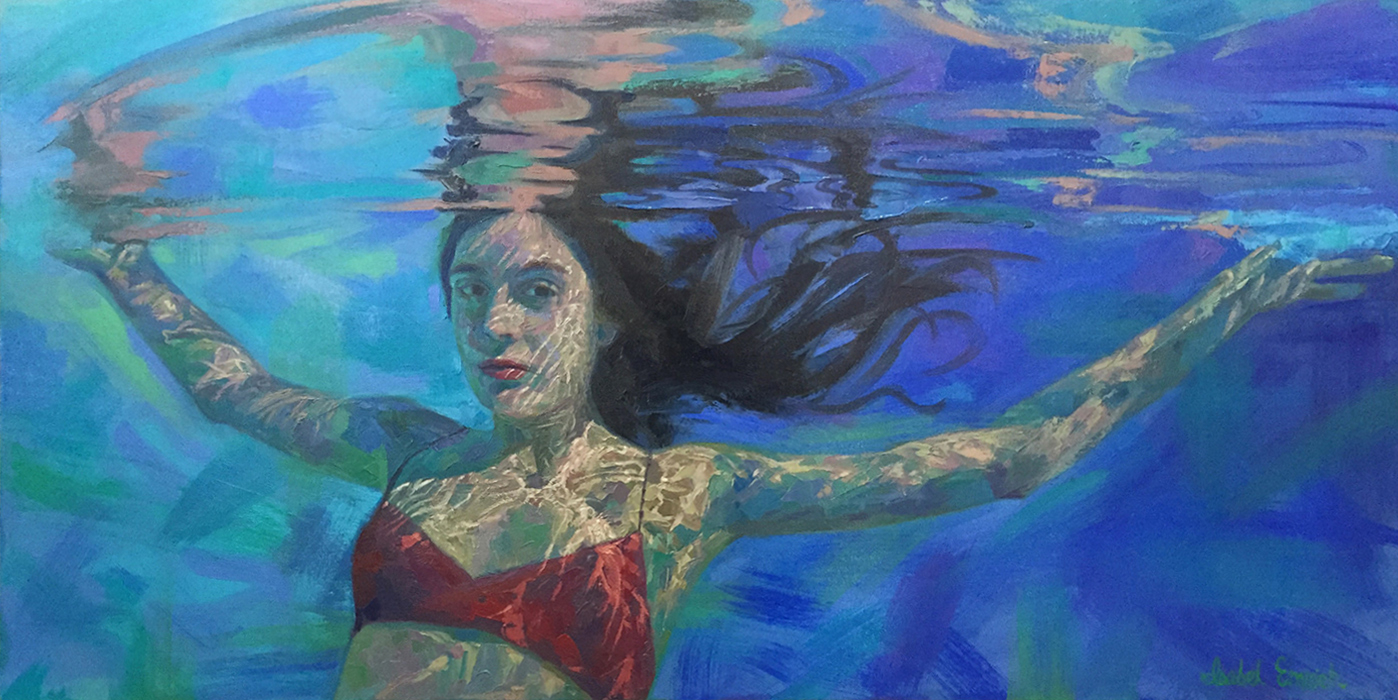 Salty Lips
Isabel Emrich
oil on canvas
24" x 48"
"Blue is tranquil and peaceful. It has a tremendous stress management quality that encourages calmness," says Dr. Edward Group in his article on the relationship of color to stress management. "Different colors produce different psychological, emotional, and physical effects. Some colors are calming and can help you relax and release your worries; some colors are stimulating. Surrounding yourself with the right colors can be an excellent stress management tool."
<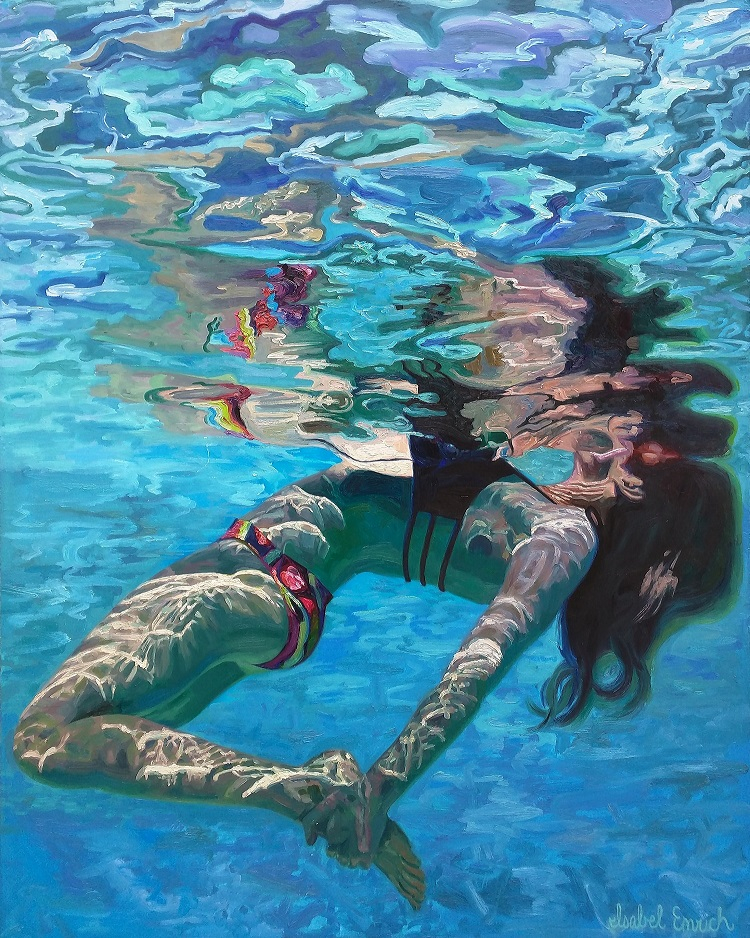 br>
Endless Color
Isabel Emrich
oil on board
60" x 48"
Emerging artist Isabel Emrich must agree. "I am drawn to the beautiful blue hues that leave the ocean endless until it blends into the sky," says Emrich. "I think about how there's a whole new world below the surface of the water and I get an overwhelming desire to dive into the ocean and explore it. I love the feeling of being submerged in water and floating, letting Mother Nature take me out to sea. I am always in tune with my five senses. Embracing the salty smell and taste, listening to the crashing waves, feeling the transparent cold water, opening my eyes underwater and looking around, letting my hair flow and feel the warmth from the sun on my skin. I feel pure peace and happiness rushing through my body and it's those moments that give me the excitement and adrenaline to paint."
Contributions of the Artistic Obsession
Our artwork makes us think and feel, and our paintings of water take us to those rivers, oceans, and pools in our minds, but also in our senses. But what about the contributions of the artistic obsession? Beyond looking at such a work of art, does the very experience of painting the water itself heighten the artist's mood, so much so that their own joy and relaxation emanates right through the canvas?
<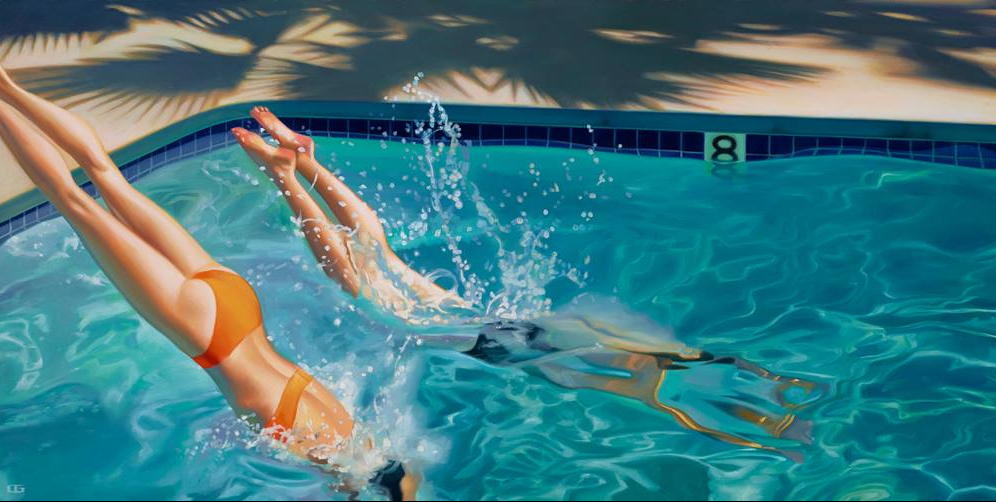 br>
Sunny Buns
Carrie Graber
Limited Edition on Canvas
20" x 40"
Claude Monet was so obsessed with the beauty of water that he created a water garden on his property as a personal paradise for himself to paint – a fascination to which he devoted himself for the last 25 years of his life and one which would influence the way other artists paint and the way the rest of the world sees art forever. "Twentieth-century art is inconceivable without Claude Monet's paintings of water lilies." - (Art Institute Chicago)
Monet's paintings of water are some of the most beloved paintings in the world, and was a defining contributor to one of the most influential artistic epochs of our visual history. His transcendent paintings of light and color reflecting and refracting on the water's surface are magnetic to most of the world's population.
<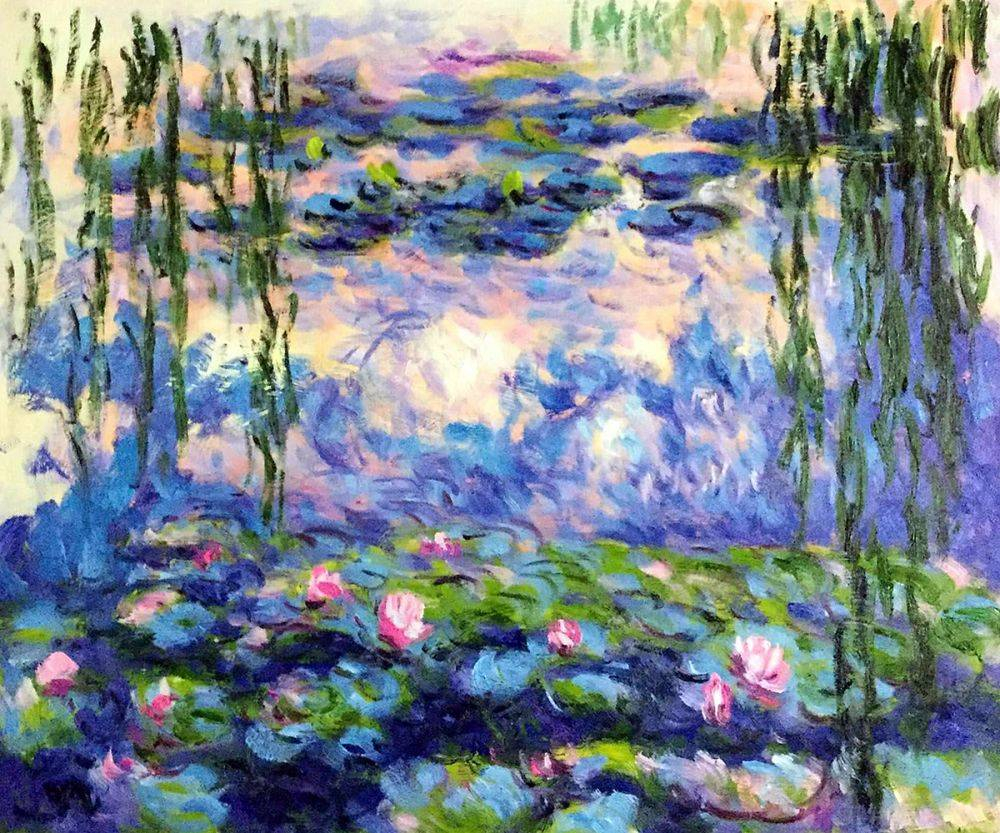 br>
Water Lilies (c. 1906)
Claude Monet (1840-1926)
oil on canvas
35 3/8" x 37 1/16"
Carrie Graber's love of water is both clear and contagious. Her paintings of cool blue swimming pools and golden ocean tides relax us as soon the moment we put them up on our Chloe Gallery walls – and sell out nearly as fast. "I mix blues with EVERYthing to harmonize, to push things 'back', to literally chill them. It's our atmosphere, our physical make-up. Water is a life-force. It's between the lines, the pause between notes. It's everything, and everywhere. I like to paint water, which has a hefty blue quotient. It unfailingly balances warmth, humanity, and light. It's calm, meditative in nature, mysterious, and cathartic."
<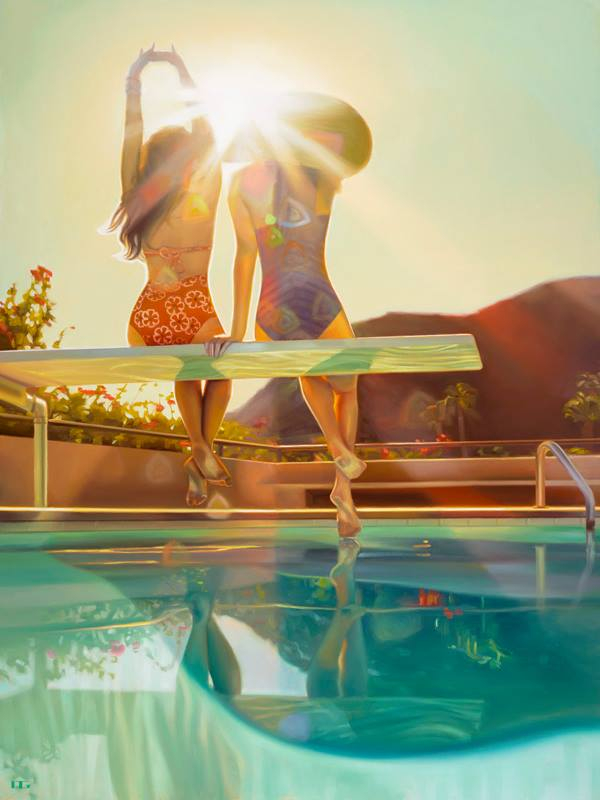 Sun Worshipers
Carrie Graber
40" x 30"
"I think for me it's the entire image," says Chloe Gallery collector Parm Miale of "Compliments for Complements", her Carrie Graber original painting of a woman with her feet in the cool blue-turquoise water of a swimming pool. "The girl sitting with her feet in the pool. Relaxed. Her mind maybe wandering to places where her feet may be in the ocean. The cool feeling of the water against her skin."
Compliments for Complements
Carrie Graber
limited edition on canvas
25" x 36"
Whether it's a view of a sunset over the ocean, a boat going down a lazy river, or feet dangling gently into a swimming pool, just the sight of water affects us on a deep emotional and psychological level. Perhaps it's the feeling of health; perhaps a sensation of love; perhaps a feeling of the endlessness of our own hidden depths.
For more information on these or other gorgeous works, please contact your Chloe Gallery consultant.
References:
Bohan, Suzanne, "Scientists discuss ocean's effect on the brain", Contra Costa Times, 06/06/11, Santa Cruz Sentinel News, http://www.santacruzsentinel.com/article/ZZ/20110606/NEWS/110607923
Bretell, Richard, Post-Impressionists; Chicago: The Art Institute of Chicago and New York: Abrams, Harry N., 1987, quoted by Art Institute of Chicago, http://www.artic.edu/, in "Examination: Monet's Water Landscapes", http://www.artic.edu/aic/resources/resource/379
Group, Dr. Edward, "How Do I Eliminate Stress With Color?", www.globalhealingcenter.com, 12/23/15, http://www.globalhealingcenter.com/natural-health/eliminate-stress-with-color/
Jordan, Will, "Why is blue the world's favorite color?", www.yougov.com, 05/12/15, https://today.yougov.com/news/2015/05/12/why-blue-worlds-favorite-color/, 05/12/15,
Nichols, Warren J., "The Cognitive Benefits of Being by Water", www.wallacejnichols.org, 08/08/13, http://www.wallacejnichols.org/126/554/the-cognitive-benefits-of-being-by-water.html